Relaxing means lying on the couch and watching your favorite series and this is only possible on a comfortable sofa. Anyone and everyone wish to have a sofa which no more a luxury rather part of necessity.
A sofa is also known as a couch, it is a piece of furniture for seating in the form of a bench with armrests. The sofa is made up of frame which is of wooden material and now a day's steel is also used to make the frame, the padding is made of foam, leather, feather, etc.
The sofa is usually kept in the living room with other furniture and appliances. A comfortable sofa allows you to spend many hours relaxing.
The structure of the sofa is designed in such a manner that it is easy to get up and sit-down; the wood used to build the frame is a hardwood. Sofas are also designed in various shapes such as L shape and are different in the number of people who can sit such as there are three seater, five-seater and single seater sofas available in the market.
Now with the growing world, people have become more fashionable and creative they like to have lavish life and when it comes to having a well-decorated home then furniture is the first thing which comes in mind, and the sofa being on number one in the list. Having a good sofa in your house can give your house a nice look; the interior of your house becomes more attractive if it has good lavish and attractive furniture.
The following list of Sofa Business/ Brand names is from existing businesses around the United States.
BirchLane
Hooker Furniture
Serta
Jennifer Taylor
Jonathan Adler
Bernhardt
Safavieh
Universal Furniture
Barcalounger
La-Z-Boy
Broyhill
Blu Dot
Rowe Furniture
Gabby
Klaussner Furniture
Homelegance
Catnapper
Heller
Modloft
Worlds Away
Eq3
Southern Motion
Tracy Porter
Signature Design by Ashley
Merax
Modway
The market for sofa business is huge and it will never see a downfall, this is such a business that needs innovation, creativity, and experimentation in terms of structure and design.
The idea of venturing into the business of sofa is a profitable business, it can generate huge profits and it has a huge demand in the market. There are many companies which are selling and manufacturing sofas, there are companies that are just distributing sofas to other markets this means that if one wishes to start a new business of the sofa they have enough options to start with.
A sofa business requires huge capital and good distribution channel, many companies in the market are doing well the new one needs to understand what the market demands, what are the new trends prevailing and then work towards it. For any business customers are their god, customers are the one who decides the fate of any business, so making a good customer base should be a priority, and to start up a new business it Is very important to have a good and catchy brand name, a brand is something which is sold first followed by product. A brand name can give a good start to any business so it is a mandatory step to deal with first.
Proper planning of raw materials, consumer's behavior, your potential competitor and new trends prevalent in the market is essential.
Before starting you need to take care of your target market and determining your target market can do the job easier and help you gain more profit, just randomly starting somewhere can lead a new business nowhere. The market is flooded with many big furniture businesses so deciding a target audience will give a niche market.
There is no doubt this business has huge potential and it a yield huge returns the business will never see fall in the market if proper planning and change is made in terms of design and structure.
Any consumers demand value for money and good service if the company focuses on satisfying the consumers it will see success. Marketing and advertising is also a key change maker in new business. As the discussed name is important for any new business the name which is already registered should be avoided.
Here are Best Sofa Business Names Ideas for your Next Startup
Ariestelle Sofa
YouCraft Sofa
Whitenollo Sofa
Xender
Duefetty Sofa
Serendy
UrbanTrend Sofa
Freshlyn Sofa
WoodRelic
MightoMax Sofa
GreatCrest
Ollins & Hooks
Opus
WelloWeist
Urbano+ Sofa
Great Legacy Sofa
ArcanoWay
Zervino Sofa
FineCrafts
HayWoods
zomoga Sofa
HillScale Sofa
MIghtyWood
Annexo
ArnoGOld Sofa
Moon Crosse
Zremble
Qatts Sofa
CraftWalk
Loster Sofa
FestyFOre
WoodKIng
LaneLIght
WoodSPring
LexingLux
FourFive Sofa
DIvineDangy
duefetty
Sherillo
Heriteggo
Dunlam
Zorgon Collection
LoveTail
ZaraCole
Trubbi
Treggo Five
Ergon Ess
Great White
FlexWood
Mad FIne
Mountain Stone
DUde Living
Urban Stuff
Hembrella Craft
Slausser Sofa
FuddySon
doscarico Sofa
Fretorium
HOmeBregg Sofa
Century Spire
DefineWOod
Purple Roset Sofa
Iffa Fest
GreatFord Sofa
Newwery
AprilFresh
May Merlin Sofa
SouthClap
HaloBret
WoodFeast
New Thomas
Oberlon
Ziphano
Zrelao
BetterWish
LifeReset
Essenly Sofa
Rangler Sofa
Zassina Sofa
ZloyZill
HenzyGreat
Eastern
YOuWOod
DeirMont
WideWest Sofa
Frosclain
BlueStar
Ortraid
Zest
Living Attire
Fabric GLamour
FabroWood
ClassyLiving
LibLest
ZABB
Porgo Pebble
Olunton
MettleMade Furniture Co.
Bossberry Furniture Co.
YoungSky Sofa Co.
SuperMate
Exotix Furniture Co.
Questa Sofa Co.
MadStar Furniture Co.
Liberton
Supramax Furniture Co.s
CappaWood Sofa Co.
YouStrong
SparkRiser Furniture Co.
Rockstable
PrimeEight
PowerPlex
HeavenSwing
Trippers Sofa Co.
MuscleFlame
Aeron Sofa Co.
Hexabeat Furniture Co.
Mystevva
FusionDot Furniture Co.
SmartRoot
Chromon Furniture Co.
Marcell
Arabell Sofa Co.
80 Degree
HighZing Furniture Co.
Barefoot
Quest Furniture Co.
SpiritFord
Everman
Trance Sofa Co.
FeetZing Sofa Co.
CrazyDive
Escotta Furniture Co.
String Furniture Co.
YongBang Sofa Co.
OOH Furniture Co.
Spiritofista Sofa Co.
OceanShore
Cappaberry
Glezz Furniture Co.
Sprints Sofa Co.
Bigday Furniture Co.
Triggers Furniture Co.
Azzona Furniture Co.
Royaliss
BilBil Furniture Co.
Fiesto Sofa Co.
Spectra Furniture Co.
Triumph
Thundermine
Raffel Furniture Co.
FomFred
Gradients Furniture Co.
Aestrix Furniture Co.
Hornet Furniture Co.
Tritonna Sofa Co.
Uproar Furniture Co.
ViaWave
DeadFly Furniture Co.
Proton Sofa Co.
RedFlag Furniture Co.
Zings Furniture Co.
GoldFox Sofa Co.
Baseline Furniture Co.
Mountenna
RedGram
Fitbit Furniture Co.
MightyBling
The Front
RockWish Furniture Co.
Thriven Furniture Co.
TrioSpire
Thunderra Furniture Co.
The Victory

Every Sofa Business entrepreneur should be well aware of its Business and Product naming process and also knows the importance of a good business name. Your potential customers must be able to recognize what your company is selling by looking at the name.
There are many things to know before choosing the right name in branding of your brand like you need a starting point as to What personality you want to project, what type of customer are you seeking. For Sofa Business Names, You can Generate Catchy names Online Easily.
For Better Interior of Home, Sofa plays an important role. There are many types of sofa with different kinds of woods and fabric etc. here is the infographic which helps you to get more detail about sofa product.
Source: Sofaworkshop.Com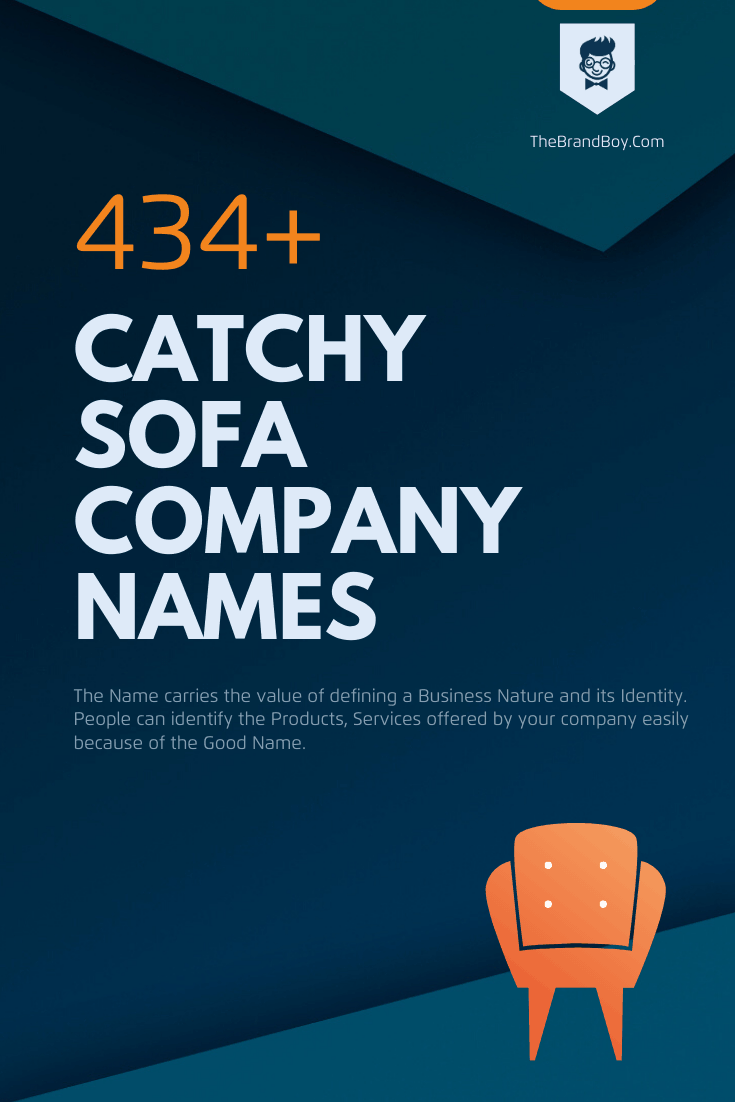 Readers also Love to Read: